Numbering of teeth and quadrants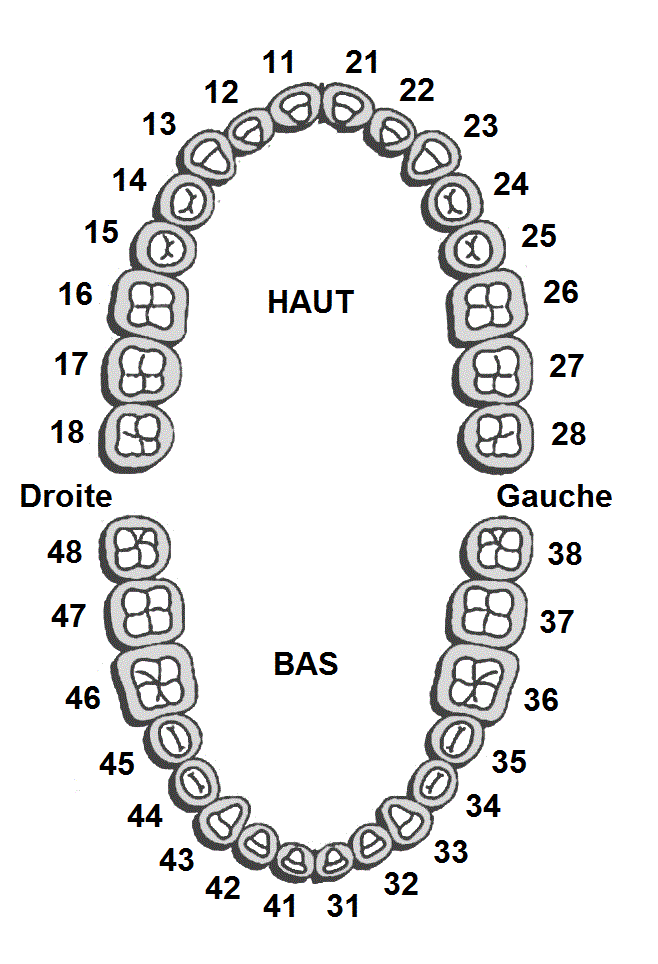 When your dentist or hygienist tells you that you have a cavity on one of your teeth, he or she identifies the tooth by name or number. For example, your dentist may tell you that you have a cavity on your first molar on the left side, also called tooth #26.
This is also how dental insurance companies identify teeth on claims or treatment cost estimates.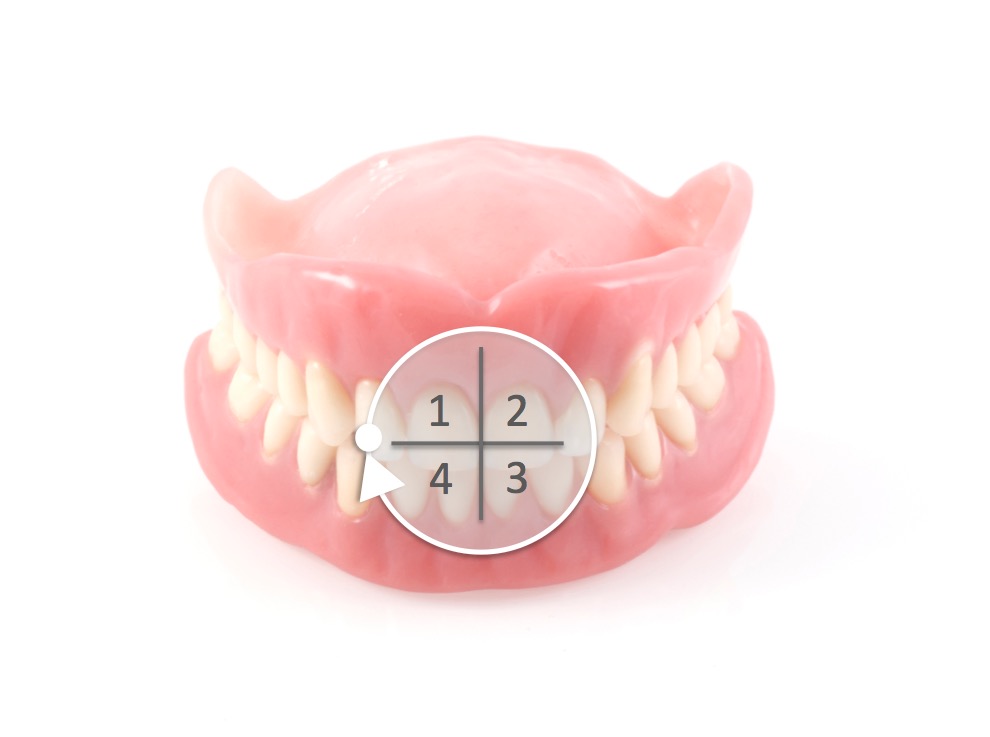 Quadrants to identify your teeth
Because it can be useful to identify the dentition by section to target an area of multiple contiguous teeth, the mouth is divided into four sections called quadrants:
Quadrant 1 (top right)
Quadrant 2 (top left)
Quadrant 3 (bottom left)
Quadrant 4 (down on your right)
Each quadrant consists of a central incisor, the adjacent lateral incisor, the adjacent canine, the premolars and the following molars.
Identification of the surfaces of your teeth
Although the crown of a tooth may seem small enough to report it as a whole, it is often useful to be able to talk about a more specific part of it.  For example, a cavity or other abnormality may be located on one or more surfaces of the same tooth. In addition, treatments are billed by surface, which explains why fillings on two different premolars may have different rates.
In writing, we use the first letter of the surface to designate the location in question. For example: tooth #37 O (O=Occlusal).
Mesial= M
Lingual= L
Distal= D
Buccal= B
Occlusal= O (for molars) or Incisal= I (for anterior teeth)
Identify an affected tooth on multiple surfaces
Since decay can affect more than one of the surfaces of the same tooth at the same time, several letters may appear next to the tooth number. For example, the lower left premolar affected by decay on all its surfaces would be labeled tooth #35 MODBL.
Visualize the entire dentition with an odontogram
To facilitate your understanding, your dentist or hygienist can present you with an overview of the dentition using a diagram called an odontogram.
Although there are many other elements that make up the structure of a tooth, this diagram will allow you to better visualize and understand the majority of symptoms, diseases and treatments.